Dr. Stephanie M. Fosback Receives National Award from the American College of Physicians (ACP)
Thursday, April 27th, 2023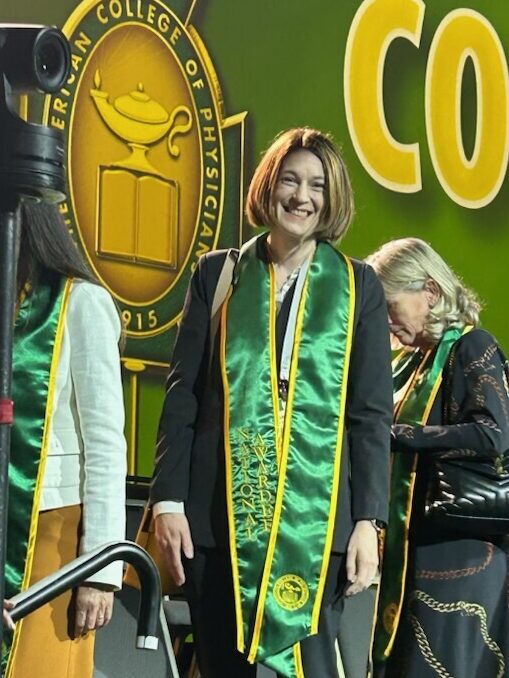 SAN DIEGO, April 27, 2023 — Stephanie M. Fosback, MD, FACP was awarded the Outstanding Volunteer Clinical Teacher Award by the American College of Physicians (ACP), a national organization of internal medicine physicians. Award recipients were recognized at ACP's annual Convocation ceremony on Thursday, April 27, 2023, at the San Diego Convention Center, where the ACP hosted its annual scientific conference, Internal Medicine Meeting 2023, through Saturday, April 29th.
This particular award is bestowed upon an ACP Member, Fellow, or recipient of a Mastership at the American College of Physicians (MACP) who has consistently volunteered their services to instruct medical students, residents, or other trainees outside of their academic responsibilities. This individual needs to show outstanding teaching prowess, display exemplary characteristics of care and concern for individual patients at their bedside, and serve as a role model and mentor.
Dr. Fosback is a Primary Care General Internal Medicine Physician with Palouse Medical in Pullman, Washington, and a Clinical Associate Professor with the University of Washington School of Medicine. Dr. Fosback completed medical school and residency at the University of Washington. Throughout her medical school and residency years, her talent as an educator and internal medicine physician was noticed by her colleagues. Dr. Fosback was honored with multiple teaching awards as well as the Tina Juul-Dam Primary Care Award, which is awarded to the third-year resident who "most exemplifies spirit, dedication and passion for primary care, inspires others with energy, selflessness and balanced holistic life, motivating all around to excel."
Following her residency, Dr. Fosback has continued to serve on many hospital committees, and also has volunteered with the ACP. She currently sits on the Washington ACP Chapter Executive Committee, and is the Co-chair of the Health and Public Policy Committee. During this time, because of her amazing work across so many sides of the profession, she has been honored with five teaching awards from the University of Washington including the Richard M. Tucker WWAMI Faculty Excellence in Teaching Lifetime Award, the Washington Chapter ACP Golden Apple Award and Internist of the Year Award, and the Pullman Regional Hospital Physician Excellence Award.
Congratulations Dr. Fosback!
About the American College of Physicians
The American College of Physicians is the largest medical specialty organization in the United States with members in more than 145 countries worldwide. ACP membership includes 160,000 internal medicine physicians, related subspecialists, and medical students. Internal medicine physicians are specialists who apply scientific knowledge and clinical expertise to the diagnosis, treatment, and compassionate care of adults across the spectrum from health to complex illness. Follow ACP on Twitter, Facebook, and Instagram.