ReadyCare Respiratory Center (RCC)
Schedule: Monday – Friday 8:00am – 4:00pm
Location: 690 SE Bishop Blvd., Suite D, Pullman, WA 99163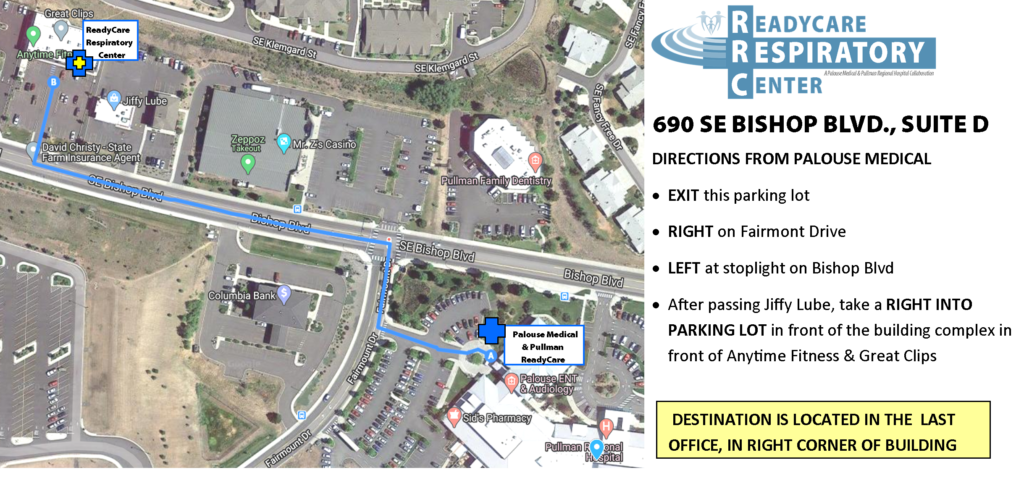 Please Be Aware...
• Face masks are REQUIRED.
• You MUST maintain social distance & remain 6 feet away from patients who are not part of your own household.
• Patients MAY BE INSTRUCTED to return to vehicle after check-in, depending on the expected wait time for appointment. Patients will then be contacted by cell phone or alerted directly by RRC staff when it is time for their appointment.
• Patients unable to provide their own health history MUST ALWAYS be accompanied by a caregiver.
• Avoid using public transportation to travel to and from the RRC to help reduce the spread of COVID-19 within our community.

THANK YOU!
Increasing COVID-19 Testing Access In Pullman

Thanks to a partnership with Palouse Medical and Pullman Regional Hospital, starting October 5, there will be expanded COVID-19 testing available with the opening of the ReadyCare Respiratory Center (RRC), located at 690 SE Bishop Blvd. Suite D in Pullman, next to Jiffy Lube.
Anyone experiencing upper respiratory, flu-like symptoms or those who have concerns about COVID-19 exposure is encouraged to seek care at the RRC. Insurance will be billed for these services and those without health insurance can consult with Palouse Medical at (509) 332-2517.
This designated, off-site location allows for patients to enter a building to be safely examined, tested, and then to exit through a separate location from the main entry. No appointment or referral is needed. A provider will make an assessment and COVID-19 testing can be performed for diagnosis.
No flu shots will be given in the RRC. Individuals seeking flu shots are encouraged to contact their primary care provider or local pharmacy.
Pullman ReadyCare, located in Palouse Medical, will continue to remain open 7 days a week. Patients with respiratory symptoms or COVID-19 exposure will be directed to seek care at the RRC during their hours of operation, but will have access to ReadyCare outside this schedule.
Pullman Regional Hospital will continue providing COVID-19 testing to patients prior to hospital procedures or with a doctor's order.