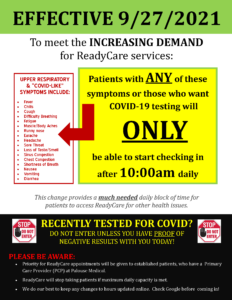 CLICK ON THE IMAGE ABOVE TO LEARN MORE ABOUT
READYCARE UPDATES EFFECTIVE 9/27/2021
WE ARE IN THIS TOGETHER!

Palouse Medical & Pullman ReadyCare are open and ready to do all they can to support you, your family and the community during these unprecedented times. Thanks to a partnership with Palouse Medical and Pullman Regional Hospital, COVID-19 testing and assessment services were expanded with the addition of the ReadyCare Respiratory Center (RRC) opened 10/5/2020, located at 690 SE Bishop Blvd. Suite D in Pullman, next to Jiffy Lube.
This site provided much needed care to area residents and guests from October 2020 – February 2021. As we watched a steady decline in the volume of patients that were seeking care at the RRC, it was determined that we no longer needed this site to be fully staffed. Palouse Medical temporarily closed the RRC site effective March 1st, 2021. Committed to the safety and helping our medical community meet our needs, Palouse Medical will continue to monitor needs and will consider reopening if it appears demand returns for these services to be available off-site.